Admittedly while writing the Green Light Slot Review we realized the potential of this game and had fun playing the game.
Theme and Introduction to Green Light
The theme of this slot game is centered around auto racing. Race cars, Drivers, Trophy Girls, trophies even the champagne to celebrate wins.
Whether you are a racing fan or you just like slots and unique bonus rounds this game is worth a try,
5 Reel Slot Game
this is a 5 reel video slot game and it has up to 20 paylines.
You can bet from $.01 per line up to $.25 per line. You can also adjust the paylines from 1 to 20.
Non Network Progressive Jackpot
Green Light game has what is known as a non- network progressive jackpot.
It works like most progressive pots and increases regularly based on a contribution for other players going in to the progressive pool. However this is specific to the casino you are playing at and not tied in to the entire RTG Network of the same game at all RTG Casinos.
It can grow rather larger but it can also be won more often in any given casino.
RTG Green Light Slot Racing as seen below.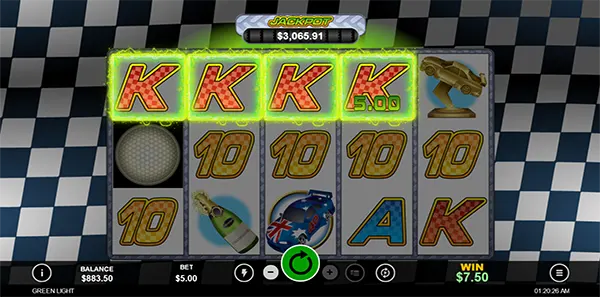 What Reel Symbols can We Expect to See?
The symbols this game are rather unique and stay with the theme well.
We will list the main game symbols and their payout for matches below:
Race Car Match 5 for 2500, 4 for 250, 3 for 50 and 2 for 5 on a payline.
Trophy Girl Match 5 for 1000, 4 for 150, 3 for 30 and 2 for 2
Car Trophy Match 5 for 500, 4 for 75, 3 for 15 and 2 for 2
Champagne Match 5 for 500, 4 for 75, 3 for 15 and 2 for 2
A or K Match 5 for 200, 4 for 20, 3 for 5
Q or J Match 5 for 150, 4 for 15, 3 for 5
10 or 9 Match 5 for 100, 4 for 20, 3 for 5
The Wild Symbol
Race Driver is the wild symbol
The driver wild substitutes for all other symbols on a payline except scatter lights.
Scatter Symbols
Scatter symbols are the racing lights. Any time you get 2 or more race lights on the board, they will turn either green or red.
The green lights are the scatter lights and scatter prizes are paid or triggered when there are 2 or more green lights. Green Scatter symbols pay when they land anywhere on the reels
If you match the Green Lights on a payline they pay 200 for 5 matched, 10 for 4, 3 for 3 and 1 for 1.
Green Lights Trigger a Bonus Game
A special green light bonus game is triggered when you get 3 or more green racing lights.
The single payline for the bonus round is the payline that triggered the start of the bonus game.
Green Lights bonus rounds can be re-triggered during a bonus game.
And prizes are doubled for you during the free games.
Unique Outcome of the Free Game Based on Your Choices
When the green light free game starts, you will make a choice that has an effect on the outcome of the game.
You get to make a pick of 1 car from among the 5 race cars revealed. Then the cars race. Free spin games are rewarded based on where the car you picked placed at the end of the race.
If you picked the 1st place car you get 25 spins. 20 for 2nd, 15 for 3rd, 10 for 4th, or 5 for 5th so you are guaranteed at least 5 free spins. If you pick the 1st or 2nd place car, there is another race to determine a multiplier.
Conclusion
Although this slot is fun we do feel they could update the graphics a bit more. The free game or free spin rounds are quite fun, especially being able to pick the race car and watching to see how the car you picked did.
We certainly can see how the wins could grow considerably playing this slot. Visit an RTG casino and give it a spin.
Quick Features List
Game Name
Green Light Slot
Software Platform
RTG Games (Realtime Gaming)
General Theme of Game
Auto racing
Type of Game
Slot Machine
Number of Reels
5
Number of Paylines
20
Progressive Jackpot
Yes on a per Casino basis (Not Network Progressive)
Bonus Rounds or Free Spins
Yes
Transitioning Symbols
Yes (Green or Red Lights affect spin Outcome)
Year Released
2011
As noted above in the Green Light Slot Review
As we made mention of above in the Green Light Slot Review, this is a game exclusive to RTG casinos. If you want to take a few spins and see how you do at the races, visit one of the RTG Casinos listed below.
Here are a few other RTG Slot game reviews. Gem Strike, Lucky Tiger and Caesar's Empire slot.