As we investigate the Ibiza Slot game review we discover some interesting features.
Developed by Arrows Edge Ibiza Slots
Unique in many ways Arrows Edge slot development has helped many casino add to their lineup of both classic and video type slot games. Ibiza Slots is a recent addition to the line.
General Theme of the Game
Centering the theme around a night out in popular night clubs in the vacation spot of Ibiza
The symbols on the reels represent things you normally see in a night club. You will run in to party girls and party guys just like you would in a club.
Progressive Jackpots
As with many Arrows Edge slot games Ibiza Slots has 2 different Jackpots.
There is a Cash Grab Jackpot and also the Super Slots Jackpot. You can see the amounts any time just by visiting a casino and opening up the game.
These jackpots are usually in the many thousands of dollars and it is common for the super slots jackpot to be 4 to 5 figures or more.
See the Below Screen Shot of Ibiza Slot Game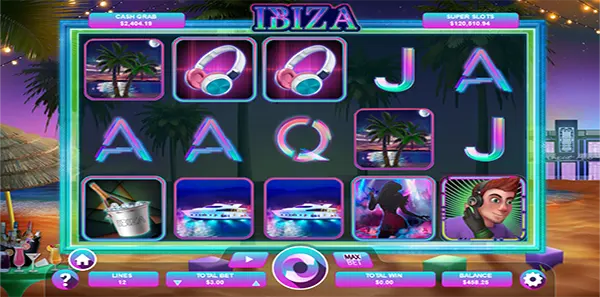 Symbols Seen in the Game
Depending on which mode you are in, a few of the symbols functions vary slightly explained below.
Wild Guy Symbol and a Wild Girl Symbol.
Regular paytable symbols are a Party Guy, a DJ, Girl Dancing, a Champagne Bucket, Headphones, a Cruise Ship and the Palm Trees Symbol. There are also a A, K, Q, and a J.
Layout of the Game
It's almost like 2 games in one with two different game layouts. There is a 5×3 with 12 lines mode and a 3×3 3 line mode.
When you enter the game you may choose which mode to start in.
During the 5 x 3 Mode
While playing in the 5 reel or 5×3 mode the game is always played with 12 lines.
Wilds will substitute for all other symbols.
Match Payout Tables List for 5×3
The match payout list below is based on the 5×3 game mode. Matches are counted when you match like symbols.
For matching Party Guy or DJ 5 for 750, 4 for 500, 3 for 40 and 2 for 5.
Dancing Girl matches as follows. 5 for 500, 4 for 200, 3 for 30 and 2 for 5.
Champagne Bucket 5 for 300, 4 for 150, 3 for 30 and 2 for 2
Headphones 5 for 300, 4 for 150, 3 for 25.
Cruise Ship, match 5 for 150, 4 for 50, 3 for 15.
Palm Trees if ypu match 5 for 100, 4 for 30, 3 for 15.
A, K Just match 5 for 50, 4 for 20, 3 for 8.
Q, J 5 for 40, 4 for 15, 3 for 4.
Be advised that only the higher paying symbols pay on a match of two, the Party Guy, DJ, Dancing Girl and Champagne Bucket.
Expanding Wild
When the Party Guy Wild symbol lands on reel 3 the wild expands on different shapes depending on the initial trigger spot.
You will get 1 to 6 respins and the wilds will stay sticky until the end of the free spin round.
The party guy wild landing on other reels will expand in different patterns.
Vertical Expanding Wild
The Party Girl Wild is a vertical expanding wild. If she lands on reel 2 or 4, she expands the entire length of the reel. This will trigger 1 to 6 re-spins.
If she lands again during the respins, she will expand on the reel and stick as wild for the remaining respins.
The party girl wild trigger for respins can not be triggered again during that round, but she can increase wins as a wild..
Switching Back to 3×3 Classic Mode
Once free spins rounds are completed in the 5×3 game you will be switched back to 3×3 mode with 3 lines.
You immediately earn 3 unpaid spins. The bet for them is based on 4 times the bet per line in the 5×3 mode that triggered the initial free spins previously.
During the 3×3 the wild party will substitute for all symbols except not for the DJ or party girl.
3 Reel Mode
A more classic look this mode is 3 reels in a 3×3 with 3 lines.
Having both modes is something unique we found with the Ibiza Slot Game.
Review the Screen Shot of Ibiza Slot Game in 3×3 Mode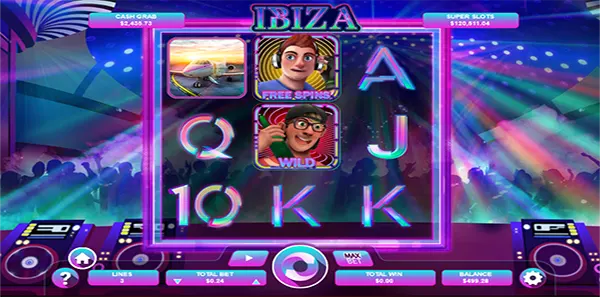 Match Payout Tables List for 3x
Different from above, match payout list below is based on the 3×3 game mode. Obviously, matches are counted when you match like symbols.
For matching Party Guy 3 for 1000 and 2 for 30, 1 gains 2.
Party Girl matches as follows 3 for 500 and 2 for 20, 1 gains 2.
Dancing Girl 3 for 500 and matching 2 for 0 or 1 for 0.
Champagne Bucket 3 for 60 and matching 2 for 0 or 1 for 0.
Neon Lights 3 for 50 and matching 2 for 0 or 1 for 0.
Airplane or the Palm Trees 3 for 40 and matching 2 for 0 or 1 for 0.
A, K 3 for 20 and matching 2 for 0 or 1 for 0.
Q, J or 10 5 for 10, and matching 2 for 0 or 1 for 0.
Bonus Round During 3×3
Triggering the bonus round while in the 3×3 is done by getting 2 party girl bonus symbols.
You then choose to spin one of the two disks on the screen divided into different colored rings. Each ring will grant up to 5 different amounts and free spins.
Keep spinning the rings until you get the collect ring which ends the bonus round.
You will notice that each time you scored a free spin ring the free spin bar grows. Once the session is unlocked you spin the amount gained.
Main Free Spins Feature
The main way you will trigger free spins feature in the 3×3 mode is by gaining 3 DJ symbols, which is 10 free spins.
During the free spins, every time you land a DJ you gain one more free spin.
During the free spins round, the party girl become a regular paytable symbol.
Switching Modes
Just as the mode switch took place switching from 5×3 to 3×3, when you complete the free spin round, you will be switched back to 5×3 with 3 free spins.
In this case the bet will be based on the previous bet per line divided by 4.
Thoughts of Conclusion
After studying the game and playing some we can add these though in our conclusion.
Certainly the switching between the two modes will make the game and style seem fresh if you manage to gain the free spin rounds often enough.
Initially while conducting the slot review we did not expect so many different facets of the game. During the review while playing for the first time we did find it to have some decent payouts during the free spins and bonus rounds.
Surely any game that increases your balance above what you started with makes one feel betting after playing. While not our favorite game, we are starting to anticipate trying out more games from Arrows Edge as we review more of them.
Quick Features List
Game Name
Ibiza Slots
Software Platform
Arrows Edge
General Theme of Game
The Night Club Scene in the Beautiful Vacation Spot of Ibiza
Type of Game
Slot Machine
Number of Reels
5 Reels as Well as a 3 Reel Mode
Number of Paylines
12 Paylines in 5 Reel Mode
Progressive Jackpot
Both a Cash Grab Jackpot and a Super Slots Jackpot
Bonus Rounds or Free Spins
Bonus Rounds and Free Spins Rounds Available
Expanding Symbols
Yes
Expected RTP
97.3 (Estimated not official will update later)
Year Released
August 2018
Arrows Edge Games are at Many Casinos Now
Over the last few years more online casinos have are offering games from Arrows Edge. Below are just a few choice you have, Visit and try their games.
Visitors Enjoyed the Ibiza Slot Game Review
Our visitors have told us they enjoyed the review of the Ibiza Slot game and would like to see more games reviewed from Arrows Edge. As we review more of their game we will publish them here at EZ-Bet, below are just a few.