In our Gold Heist Slot Review we will cover the most entertaining features of the game. To find this game just visit your favorite casinos with Dragon games.
A Gold Mine Town is the Theme
Along the lines of what a gold mine and neighboring town would be like in the old west is the theme the slot follows.
Dragon Gaming released this slot in the Fall of 2020
Dragon Gaming Popularity Increases
Although lesser known over the last few years Dragon Gaming has become more popular.
As a slot player you will want to know that feedback players has shown a significant increase in play time and likeability in Dragon slot games. This will surely lead to more game releases by Dragon which is good for the player community and the casinos that carry their games.
5 Reel Slot Game
You will enjoy this 5 reel slot game.
It has 30 paylines which can produce big wins.
Dragon Gaming Gold Heist Slot as seen below.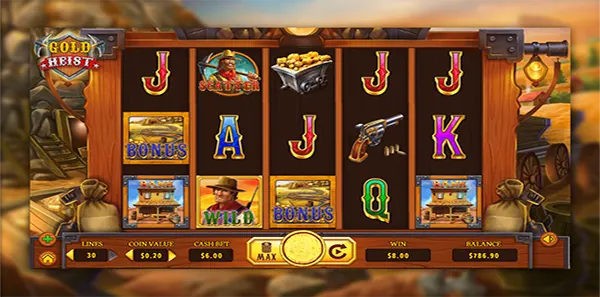 Various Old West Symbols
The symbols are somewhat entertaining and consist of things like the old west bank, or a handgun similar to what many carried during the days of the gold rush in the west.
Additional symbols associated with mining like an ore cart used to remove the ore from the mine and even a stack of gold bars. Also A, K, Q, and J.
Wild Symbols
The wild symbol is easily detected as it looks like a cowboy you might run into in an old west saloon.
You will quickly recognize the wild symbol not only substitutes other symbols but it also doubles your win.
Scatter Symbols
The scatter symbol is a miner to go along with the gold mine theme. And of course the miner is carrying a pick axe that will hopefully dig up some gold for you in winnings.
When you get 3 or more scatters, it triggers the Minecart Bonus Round. Each scatter is assigned a pick of free spins. This minecart bonus round awards you with up to 50 Free Spins total.
Any winnings you get from the free spins rounds are doubled.
Scatter and bonus rounds can not be re-triggered during the free spins, but the winnings can still be pretty large.
Bonus Rounds Symbol
The bonus round symbols is a gold ore cart on a rail track. Bonus rounds are triggered with 3 or more bonus symbols.
In the bonus round you will spin the wheel and when it stops you will advance the ore cart along the trail. This can win you up to a maximum of 200 times your bet.
Slot Rules
Some players like to read over the rules before playing a slot. Below we have them listed:
30 Paylines
Paid according to the Paytable in the Game
Payline wins are multiplied by coin value
Regular symbols pay left to right in consecutive order
Only the highest win on any payline is paid
Expected RTP is 96.12
Conclusion
To conclude, overall this slot can be a lot of fun for you.
Regular players will get to know the characters in the special symbols a bit and you will cheer for them each time they make an appearance.
Since the game was developed by Dragon Gaming you will find it at a number of very respected online casinos.
Next time you are in a Dragon Gaming casino be sure you give this game a spin.
Quick Features List
Game Name
Gold Heist Slot
Software Platform
Dragon Gaming
General Theme of Game
Gold Mine of the Old West
Type of Game
Slot Machine
Number of Reels
5
Number of Paylines
30
Progressive Jackpot
No
Bonus Rounds or Free Spins
Yes
Cascading Symbols
No
RTP
96.12
Year Released
2020
As we noted in the Gold Heist Slot Review Above.
This slot game was developed and is exclusive to Dragon Gaming, but many multi software casinos have it. We have reviewed some of the more popular casinos with this game here at EZ Bet. You can see those reviews in the site navigation.
We have also listed the best Casinos below where you can find this game.Visit one and play Gold Heist Slot.