Just released August 2022 this new slot from RTG we take a look at Doragons Gems Slot Review.
Doragons Gems is a 5 reel 25 payline slot game.
Offering a Fantasy Theme and Dragons
What can be more fun then a slot themed around dragons and fantasy?
Based on various press releases the premise of the theme is centered around Doragons. The mythical dragons who are guarding gems in their cave.
Warriors are sent to defeat the dragons and gain the gems since they provide immortality. The warriors failed, therefore the gems are still hidden. Play the game to find them.
Game Available Immediately
This game has been released and is available immediate at your favorite RTG casino.
If you do not have a favorite RTG casino you visit regularly, see one of our casino reviews throughout the site. Or you may also see the list or recommended ones at the end of this game review.
Symbols in the Game
Doragons Gems slot has symbols you may be expecting to see.
It has a number of dragons, red, purple, blue and green with varying values. Then there are the gemstones symbols. A red heart gem, purple diamond, blue club and green spade.
Recently Released See Below for a Screen Shot of Doragons Gems Slot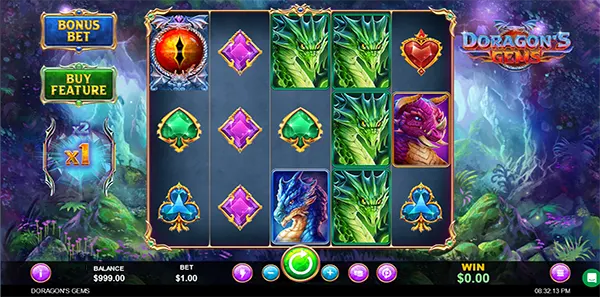 Payouts of the Symbols When Matched
When matching symbols during the game the payouts are as follows:
Match 5 red dragons for 100, 4 for 40 or 3 for 16
When match 5 purple dragons for 70, 4 for 30 or 3 for 12
Match 5 blue dragons for 50, 4 for 20 or 3 for 8
You can match 5 green dragons for 40, 4 for 12 or 3 for 6
Match 5 red hearts or purple diamonds for 24, 4 for 8 or 3 for 4
If you match 5 blue clubs hearts or green spades payout is 20, 4 for 6 or 3 for 2
Matches are counted left to right on payines. Only the highest win on an active payline will be paid.
Cascading Style Symbols
What many players have come to love in recent years are cascading style symbols and this game includes them
You will see it has genuinely fun bonus rounds and more we will cover below.
Cascading symbols can appear on any spin with a win. The winning symbols will drop off (or cascade). The winning symbols will be replaced with other symbols and possibly creating another win.
During this feature there will be a random symbol replaced with a wild symbol, which can also increase our win.
Multiplier Feature
Active during all spins is the multiplier trail feature.
After each activation of the cascading symbols the multiplier will advance. This continues doubling with each cascade until no winning combinations occur.
Wild Symbols
The wild symbol can be best described as the golden dragon egg.
Scatter Symbol
The scatter symbol is in the form of a dragon eye.
Free spins are triggered by getting scatters anywhere on the game board.
Landing 3 scatters triggers 7 free spins, landing 4 triggers 10. And by landing 5 scatter dragon eyes you get 13 free spins.
During any free spin rounds the multiplier will start at 1X. Obviously the free spin bet is based on the bet placed that triggered the fre round.
Gamble Feature
An interesting feature is the gamble option during free spin rounds.
If you win 7 free spins you may gamble for 10 free spins or lose the 7 you won.
When you win 10 free, you can gamble for 13 or lose the 10 free spins you won. No gamble option is active when you win 13.
Buy Feature
Any time wile playing you can opt in for the buy feature. This is a purchase that costs 100x the previous bet and triggers a free game spin.
When this feature is purchased, the Bonus Bet feature is disabled.
Bonus Bet Feature
You can use the bonus bet feature any time during regular play. This feature will double your odds of triggering the free spin rounds.
Activating this feature increases the bet by 25%.
Once activated the bonus bet stays activated until you disable it, so be sure to do so unless you want it to stay active.
Bet Versus Paylines
One thing we had not mentioned previously was the bet versus the pay lines.
For the slot you bet on 20 lines, but there are actually 25 paylines.
This is interesting and something that is not seen often.
To wrap up the Doragons Gems Slot Review
To wrap up the Doragons Gems slot review our feelings are mixed.
The theme and general feel of the game are good. During the play to perform the review we did get the free spins feature enough times to keep us interested.
We took advantage of the gamble feature as well as the bonus feature a few times. As expected, sometimes it was in our favor sometimes not.
In the end not really a fan of the buy feature, but if someone took the bet and it was in their favor, it certainly could be a big win.
Final Conclusions
Our final conclusions are it can be a really fun game and it is a cool theme.
Up to you whether to use the gamble or bonus bet feature. We feel the game stands well on it's own without the buy feature. Worth a try for sure and the dragons are pretty cool.
Quick Features List
Game Name
Doragons Gems Slot
Software Platform
RTG (Real Time Gaming)
General Theme of Game
Mythical Times with Dragons Guarding Gemstones
Type of Game
Slot Machine
Number of Reels
5
Number of Paylines
25
Progressive Jackpot
No
Bonus Rounds or Free Spins
Yes
Cascading Symbols
Yes the Active During Winning Spins can Increase Wins
Expected RTP
Currently Unknown (will update later)
Year Released
August 2022
We mentioned the Doragons Gems Slot Review Above.
This game is avilable only at RTG casinos. Visit some of our RTG casino reviews or yu may visit one of the casino shown below.