Developed by Arrows Edge we take a look at Panda Planet Slot Review to see what the game is like.
General Theme of the Slot
Based loosely o n Pandas and their friends. The backdrop are lush greenery and bamboo.
The main characters are well dressed pandas and a few of their friends.
Number of Reels and Lines
There are 5 reels and 4 lines in the game.
The paytable stated up to 1024 ways to win and the minimum bet is $0.50.
Jackpots Available
There are two distinct jackpots available, the first one is the Cash Grab. Based on various days of game play that one seems to usually be $1000 to $2000 or more with checks at random times.
Then there is the Super Slots Jackpot. Each time we viewed the game to verify the amounts it was always $100,900 or more and at least once we saw it over $200,000. We do not currently know what the original seed amount is any time it is won and resets.
Panda Planet Slot Review Screenshot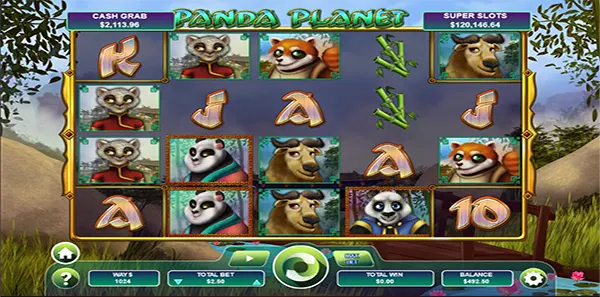 The Symbols Within the Game
While playing the game you will encounter the following symbols within.
There is a male panda, very well dressed and a female panda. At least you can get that impression since she has a flower in her ear.
Then there is the red fox, a ram and then there is a grey fox. We have seen others say this is a goat but we do not think so. To round out the symbols there is a bunch of bamboo as well as card symbols of A, K, Q, J, 10.
Wild Symbols
The wild symbol is in the form of Yin-Yang.
See below for a further explanation of the wilds, how they expand, become sticky and trigger the bonus rounds.
Basic Payouts for Matching Symbols
Here is a rundown on the win for matching symbols:
Yin/Yang symbol, or wild match 5 for 400. 4 for 80, 3 for50
Male panda and female panda match 5 for 100, 4 for 40, 3 for 25
Red fox or Grey fox match 5 for 80, 4 for 25. 3 for 15
lThe ram or the bamboo stalks match 5 for 60, 4 for 20. 3 for 10
A match 5 for 50, 4 for 15, 3 for 5
K, Q match 5 for 40, 4 for 10, 3 for 5
J, 10 match 5 for 30, 4 for 10, 3 for 5
Growing Wilds
Wilds after landing will randomly grow to cover 2×1, 1×2 or even 2×2 spots to increase the areas the wild covers to increase winnings.
Growing wilds can activate both the panda feature and the colossal wheel.
This feature is only available during the base game and not during a panda feature or colossal wheel game.
Panda Feature
The trigger for the Panda Feature game is landing a Yin-Yang symbol in any of the 4 corners of the reel frame>
When landing the wild in a corner, it will remain "sticky" for 5 spins, the duration of your free spins
If during one of those free spins, you also land another wild in one of the other corners, the panda feature will end, but that triggers the Colossal Wheel Feature.
The wild will no long be sticky going forward.
Colossal Wheel Feature
Any time 2 Yin-Yang symbols land on different corners the colossal wheel feature is triggered. The wilds will not expand during this special feature.
Reels 2, 3 and 4 become the single colossal reel and symbols are 3×3.
Colossal spins are triggered in this manner:
2 corners land the wild reward is 3 colossal free spins.
3 corners land the wild reward is 5 colossal free spins.
4 corners land the wild reward is 10 colossal free spins
Colossal Feature can not be re-triggered during a colossal spin.
At the end of the round you may choose to keep that win or forfeit the win try one more time with another Colossal session.
Other Options Players May Like
Does have an auto spin or autoplay option, and you can set it in increments of 5.
Some slot games do not allow for volume adjustment and some do, happy to say this game does. Some players may dislike adjusting their speaker volume and yet turn down the game sounds while not disabling them completely.
To Sum Up the Slot Review
While not the most exciting slot we have reviewed the theme is nice. The wilds and free spins did land enough to make the game play better. The Colossal Feature was interesting and during the review came up a reasonable amount of times. The replay of that feature did allow us to almost double a win in one case. We chose wrong in another case where we would have been better to collect the win instead of gamble it.
As we have stated in other reviews, we like it when we have such options that allow more player input that help determine the outcome of the win. It just seems to add something to it.
Quick Features List
Game Name
Panda Planet
Software Platform
Qora Gaming
General Theme of Game
Pandas and their Friends among the Bamboo and Lush Landscape
Type of Game
Slot Machine
Number of Reels
5
Number of Paylines
Up to 1024 Paylines
Progressive Jackpot
Yes
Bonus Rounds or Free Spins
Yes
Expanding Symbols
Yes
Expected RTP
Currently Unknown (will update later)
Year Released
2018
Digging in to the Panda Planet Slot Review we See Interesting Features
We have only recently started reviewing the games from Arrows Edge and they do have a unique style to them. They may not become everyone's favorite, but take a few spins and if you happen to hit that colossal feature you might walk away with a decent return.
Below we will list a few of the places where you can play this game and decide for yourself.
Other Arrows Edge Slots Reviewed at EZ-Bet
Below are a few of the other slots developed by Arrows Edge we have reviewed here at EZ-Bet