In the Meerkat Misfits slot review we look at what a meerkat is and how they help you win when you play their slot.
Background on Meerkats
The meerkat or suricate is a small mongoose found in southern Africa. Some people may even think they are kinda cute creatures.
According to the wiki on them meerkats are highly social and hang out together in groups or packs. Read more about the meerkats.
Meerkat Misfits are different and have a job to do.
General Theme of Meerkat Misfits Slot
In the saga of this game it is the meerkats job to help protect the animals from poachers and you can help make that happen.
As you play you will quickly discover seeing the meerkats are helpful and increase your wins.
The background surrounding the slot follows the theme of the meerkat habitat of the Savanah of Africa.
Developer of the game is RTG who has a long many year tradition of making entertaining slots.
Number of Reels
his slots has 5 reels and 30 paylines. Having the 30 lines can at times bump the wins on the round.
It is estimated the calculated RTP on this game is 97.3
Slot Meerkat Misfits As Shown Below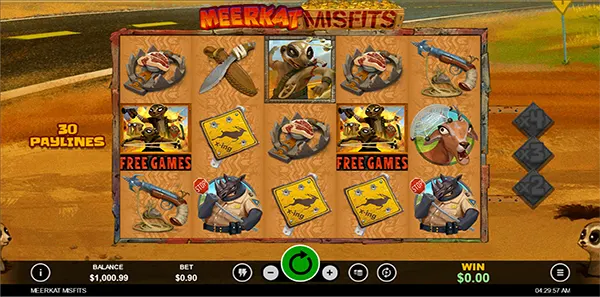 Character Introduction of Symbols
Before we get into the breakdown of the game let's meet the characters that are the game symbols.
Merkats in a jeep
Treasure chest
Ostrich that appears has a bolas wrapped around his legs
Springbok,trying to escapt a net trap of some sort
Rhino holding stop sign, he appears to have a park ranger uniform on
Harpoon Gun
Knife
Springbok Crossing Sign
Bear Trap (baited with a T-Bone Steak)
Those were just the regular symbols. There are also meerkat wilds and the scatter symbol.
Matching Symbol Payouts
Reminder, when matching symbols, you must have 3 4 or 6 of that same symbol for a match. Below we have shown the matching symbol payouts:
Meerkats in a jeep match 5 for 500, match 4 for 200, match 3 for 100, and 2 for 10
Treasure Chest match 5 for 300, match 4 for 100, match 3 for 25, and 2 for 5
Ostriach match 5 for 200, match 4 for 50, match 3 for 15, and 2 for 3
Springbok or the Rhino, match 5 for 100, match 4 for 30, match 3 for 10
Harpoon weapon or the Bear Trap, match 5 for 60, match 4 for 15, match 3 for 5
Knife or the crossing sign, match 5 for 50, match 4 for 10, match 3 for 3
Wild Symbols
Although some have stated the 4 meerkat wild symbols are rebels, they are somewhat the heroes. As we said above they are on a mission to help save the other animals and increase your slot winnings when you see them.
With some digging e found their names. They are Scout the 1X wild, Hunter 2X, Muscle3X, and Commander Meerkat 4X.
When they appear, (on reels 2, 3, 4 and 5) they substitute for all symbol except the scatter and will multiply the win by their respective amount.
Only the highest wild multipler is used when you bet multiple wilds.
Scatter Symbols
In our opinion the scatter symbol appears as the most menacing meerkat, but he is kinda cute too. Not sure what weapon he is holding but is likely to scare the animal poachers away and release the winnings.
Getting 3 or more scatters anywhere on the game board will trigger the Free Games with stages Feature.
There are up to 4 stages of free games you win, depending on how many re-triggers you get,
Stage 1 is 7 free games, and if retriggered 7 more added. Stage 2 is 8 more free games with more added for re-trigger. When you move to stage 3 you get 9 free games and moving to stage 4 is 10 free games.
As you can see, the meerkat scatters can be a huge boost to your winnings. Visit the pay table page for the full explanation if you need it clarified.
Conclusion
After being slightly skeptical initially, after we read more about this game we were impressed.
The amount of free spin options with the scatter re-triggers and how the win can climb makes a big difference.
And we have to admit, knowing the back story after reading the press release, and the fact the symbols each have names, just ads to the entertainment value.
So visit one of the RTG casinos we have listed, and have a spin at Meerkat Misfits, and get to know the meerkat guys, and you too will be calling their names when they appear.
Quick Features List
Game Name
Meerkat Misfits Slot
Software Platform
RTG (Real Time Gaming)
General Theme of Game
Meerkats and other animal of the African Savannah
Type of Game
Slot Machine
Number of Reels
5
Number of Paylines
30
Progressive Jackpot
No
Bonus Rounds or Free Spins
Yes
Cascading Symbols
No
RTP
97.3%
Year Released
June 2022
Even though we had already covered these points in the Meerkat Misfits Slot Review
As a reminder this game is live and available now at online casinos using the RTG software. Below we have listed some of the RTG casinos where you can find this game.
Here are a few other RTG Slot game reviews. Green Light, Lucky Tiger and Caesar's Empire slot.