A game that has been around a while but in this Caesar's Empire Slot Review you will see why it is still popular toady. This slot was initially released in 2011.
Number of Reels
Caesar's Empire is a 5 reel slots. It has 20 paylines. Although it is not an RTG Network Progressive, it does have an in house progressive jackpot.
We have seen times where the jackpot is in the many hundreds of dollars but quite often it easily climbs in to the thousands of dollars.
Symbols Available
Quick list of the symbols available in the game:
A or K the most common of almost any slot game.
Fruit Bowl most often seen at any Roman feast.
Sword with a Shield, all warriors need these.
Roman Warrior's or Gladiator's helmet
Cleopatra the Roman Queen herself.
Colosseum the most iconic symbol in Rome and basis for the game theme.
Caesar's Coin which transitions to Caesar's Wild
RTG Caesar's Empire Slot Review as seen below.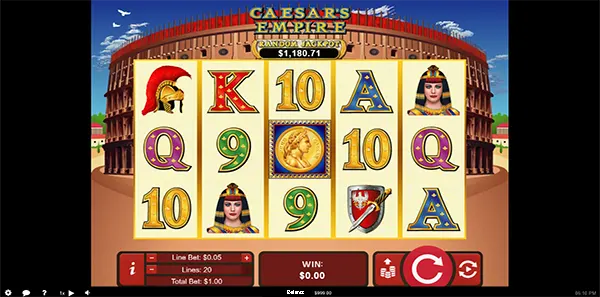 Check the Symbol Pay Chart
You may want to check the payline chart to see the values of the symbols, but here is a quick run down.
Below are the pay outs for the regular symbols when matched on a payline: (without wilds)
Caesar's Coin pays 2500 for 4 matched, 250 for 3 matched, 25 for matches and 2 for 1 symbol.(also wild see below)
Cleopatra pays 2500 for 5, 250 for 4 matched, 50 for 3 and 2 for 2.
Helmet pays 500 for match of 5, 100 for 4, 40 for 3 and 2 for 2 matched.
Sword with Shield pays 200 for 5 matched symbols, 40 for 4, 15 for 3 and 2 for 2.
Fruit Bowl pays 150 for 5, 25 for 4 matched, 10 for 3 and 2 for 2 matched.
Coliseum pays 100 for 5, 10 for 4 matched, 3 for 3 matched and 1 for 2 symbols.
A,K pays 125 for 5, 20 for 4, or 5 for 3 matched.
Q,J, 10, 9 pays 100 for 5 matches, 10 for 4, or 5 for 3 matched.
Colosseum is a special multiplier see below.
Caesar's Coin Wild
Caesar's Coin, is the symbol you will enjoy seeing coming up on the reels often. It is the wild symbol, and after it is recorded it transitions from a coin in to the Caesar Wild.
When you get the Caesar wild on the reel 1, 2 3 or 4 it will substitute for any symbol on a winning payline.
It also triples the win for that payline only. Example, getting 5 of the helmet, along with Caesar's Coin will activate a 1500 coin win.
Matching Caesar Coins
Matching wild Caesar coins pays really nice. If you get 2 coins you earn 25 credits. Match 3 and get 250 and for a match of 4 you get 2500 credits on the win.
During normal spins the coin will land on reels 1, 2, 3 or4 and substitute for all other symbols except the scatter. (coliseum)
Free Spin Feature and the Trigger
The free spin feature can be activated fairly easily. Just get a Caesar's coin on reel 5. This will reward you with 10 free spins.
All prize wins are doubled during free spins rounds.
Free spins can be re-triggered during a free spin round, which can increase your win that round greatly.
Colosseum Symbol as a Multiplier
Matching the Colosseum symbol on paylines acts as a multiplier with nice wins. The multiplier is based on your bet for that spin.
Match 5 Colosseum symbols for a 100 x, match 4 for 10x, 3 for 3x and 2 x for a match of 2 symbols on a payline.
Scatter Symbol
The coliseum is also the scatter symbol.
During free spin rounds all coliseum symbols are changed to Caesar's or Cleopatra's during the round. Every Caesar that appears will award an additional 5 free spins.
Overall Thoughts
Considering this game was released more then 10 years ago, overall we think it is a good solid game you will enjoy. It continues to be popular among players.
Many fans of the rtg slot games will appreciate the no-nonsense style of scatter and free spins triggers. Also a generous portion of symbol variations and even some match payouts for as little as 2 symbols matched.
Quick Features List
Game Name
Caesar's Empire Slot
Software Platform
RTG Games (Realtime Gaming)
General Theme of Game
Caesar and the Roman Empire
Type of Game
Slot Machine
Number of Reels
5
Number of Paylines
20
Progressive Jackpot
Yes on a per Casino basis (Not Network Progressive)
Bonus Rounds or Free Spins
Yes
Transitioning Symbols
Yes
Year Released
2011
Even though we mentioned in the Caesar's Empire Slot Review Above.
Even though we did mention in the Caesars Empire slot review above, we thought it would be wise to provide a few direct links to casinos where you can play the game.
Visit any of them to play Caesar's Empire Slot or many other casino games.
Other RTG Slots Reviewed at EZ-Bet
Here are a few other RTG Slot game reviews at EZ-Bet