Recently released we will take a closer look at the new 9 Realms slot and review it's game features. The game is released under the RTG title and developed by SpinLogic Gaming.
Nine Realms is a 5 reel 3 row video with a number of different feature game. Read the full review below to find out more.
Enter a Mystical World in Nine Realms Slot
Are you ready to enter the mystical world in the None Realms Slot game? You will be part of the battle where the goal is to be in control of the Shield of Swords.
Admittedly a number of slots on casinos have a mystical theme, but this is a new way of experiencing mystical worlds leading to a fiery kingdom..
Many Feature Games Included
The Nine Realms game has many different feature games that can be triggered during your play.
The Mystical Zone Feature, Gatekeeper Portal Feature as well as Free Games. Each are triggered in different ways and increase your wins.
Morphing Symbols
Many of the more exciting video slots released by various software developers include morphing symbols.
Some may refer to them as transitioning or changing symbols. Just know when symbols morph on the game board they will often help you match other symbols or trigger special feature spins or bonus rounds.
Read more about the gatekeeper feature below, when the helmet symbols morph into warrior symbols to start the feature.
Recently Released See Below for a Screen Shot of Nine Realms Slot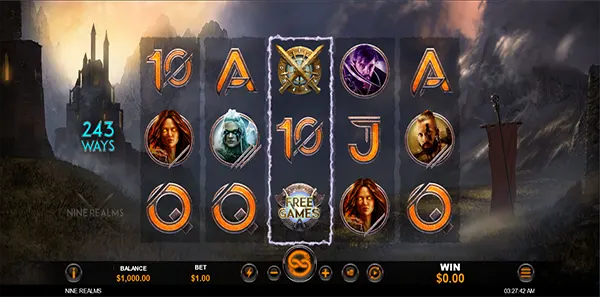 Let's Review the Symbols in the Nine Realms Slot
Highest paying symbol when it comes to matching in the Shield of Swords.
Also included are 4 brave warriors which will help you in your quest. Which warrior will be the one that will help you gain control and increase your wins durin the gatekeeper spins? There are also card symbols as A, K, Q, J, and 10.
Read more below on what you can win with matching the warrior or other symbols.
Mystical Zone Feature
Another interesting and unique feature is the Mystical Zone. During this feature you will see reel 3 will be surrounded by a mystical border.
When you have a stacked warrior symbol it will morph into any warrior symbol and fill in matches for you.
Matching Symbols Payout
This is not the complete payout table, but does reflect the wins on matching symbols. Sell the paytable section in side the game for full details.
Shield of Swords, match 7 for 70, match 6 for 60, match 5 for 50, 4 for 40 and match 3 for 30.
4 of the Same Warriors, match 7 for 28, match 6 for 24, match 5 for 20, 4 for 10 and match 3 for 6.
A and K match 7 for 20, match 6 for 16, match 5 for 10, 4 for 8 and match 3 for 4.
Q and J, and 10 match 7 for 7 for 20, match 6 for 16, match 5 for 10, 4 for 4 and match 3 for 2.
Gatekeeper Portal Feature
The gatekeeper portal feature game can be triggered on any non winning spin. The base gatekeeper game is a 3×2 or a 5×3 game board chosen randomly.
During this feature, you will see the the helmet symbols and they appear in random locations on the game board.
Once the helmet symbols have appeared and morphed (or transitioned) into warrior symbols all your wins will be evaluated and totaled.
Scatter Symbols
Easy to identify, the scatter symbol is a shield that clearly state Free Games, so you will want to land those symbols often.
The scatter symbols will pay you when you get them anywhere on the game board.
Free Games Feature
In addition to the gatekeeper feature, you can also trigger free spins when you land scatters on reels 3, 4 and 5. This will trigger 7 free spins.
At that time the Mystical Zone will also increase to cover the middle spots on reels 3, 4 and 5.
Once free game feature is triggered, the game board will randomly be 4×2, 5×2 or 5×3 only during the Free Spins.
Remember that free spins play at the bet that triggered them so the more you bet the higher the free spins wins will be.
Final Thoughts on the Nine Realms Slot Review
To sum up the final thoughts on the Nine Realms game and review their features is difficult except to say this slot is fun and feature rich.
The fact it has a mystical theme and absorbs you into the fantasy realm during play adds to the value of entertainment. More features not normally seen combined in such a manner this slot gets high ratings on the "you should try" scale.
Quick Features List
Game Name
Nine Realms Slot
Software Platform
RTG (Real Time Gaming)
SpinLogic Gaming
General Theme of Game
Mythological and Mystical Realm with Warriors
Type of Game
Slot Machine
Number of Reels
5
Number of Paylines
Up to 243 Ways to Win
Progressive Jackpot
No
Bonus Rounds or Free Spins
Yes there Are Multiple Bonus Type Rounds
Morphing Symbols
Morphing or Changing Symbols are Available
RTP
96.0
Year Released
July 22, 2022
In the nine Realms Slot Review Above it's EZ to see You Want try this Game.
Below we have listed a few places where you can play the game, it is available at most of the respected RTG Casinos.
Other RTG Slots Reviewed at EZ-Bet
Below are a few of the other slots we have reviewed here at EZ-Bet