Developed by Qora Gaming the Gridiron Glory Slot Review combines the fun of football games and sinning slots.
Game Theme
Based on the name you would be correct to assume the game theme centers around football.
Sound effects, game symbols all relate to many sports enthusiasts favorite pastime visiting a stadium to watch a football game.
Games Symbols Identified
During your game play the symbols appearing on the game board will be identified in a list. Read further to see their match values and special symbols.
This list identifies the game symbols you will see while you play.
Obviously every football team has a quarterback and this game is no exception. You will also see receivers, kickers, running backs and other players not mentioned.
There will be officials such as a referee, line judges, and no football game would be complete without cheerleaders.
Even a yellow helmet and a spinning football will make occasional appearances.
Screenshot Review of the Gridiron Glory Slot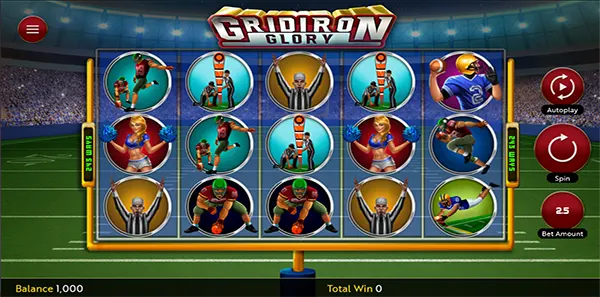 Paytable Match Wins
Below we have listed the match wins on the paytable. Reminder that match wins are when you match like symbols on a pay line, left to right.
5 Referee's match for 30, 4 for 5 or 3 for 1.5
5 Scoring Players match for 15, 4 for 4 or 3 for 1
5 Quarterbacks match for 12.5, 3.75 for 4 or 3 for 0.75
5 Running Backs match for 7.5, 4 for 3 or 3 for 0.6
5 Cheerleaders match for 6.25, 4 for 2.5 or 3 for 0.5
5 Lineman match for 6, 4 for 1.5 or 3 for 0.4
5 Centers match for 5, 4 for 1.25 or 3 for 0.4
5 Kicker match for 4, 4 for 1 or 3 for 0.25
5 Line Judges match for 3.5, 4 for 0.75 or 3 for 0.1
Expanding Wild Symbol
The number 6 player, likely a running back or tight end is the expanding wild symbol.
Landing the expanding wild symbol is nice as it will expand to fill the full reel. This will replace any regular symbols for matches increasing your win.
Stacking Wild
Adding yet a 2nd wild symbol, the Yellow Helmet is considered a stacking wild.
The yellow helmet wild will only appears on reels 3, 4 or 5. They replace any regular symbol on a payline for increasing matching wins.
Gridiron Glory Slot Scatter Symbol
Of course the Gridiron Glory Slot scatter symbol just has to be a football, What other symbol is a more logical choice?
When you see 3 or more scatter symbols anywhere on the game board, you get free spins.
3 Scatters are 15 spins, 4 pay 20 and 5 scatters will gain you 25 Free Spins.
Since the scatter wins multiplies the bet that triggers the free spins, it is multiplied as follow:
5 scatters 250 X
4 scatters 50 X
3 scatters 5 X
Gridiron Glory Final Thoughts
Both football fans as well as video slot lovers will enjoy playing the Gridiron Glory slot.
The amount of possible paylines and various wild, scatter and cascading symbols will keep slot players interested and winning.
Quick Features List
Game Name
Gridiron Glory Slot
Software Platform
Qora Gaming
General Theme of Game
Football Games
Type of Game
Slot Machine
Number of Reels
5
Number of Paylines
Up to 243 Ways to Win
Progressive Jackpot
No Progressive Jackpots
Bonus Rounds or Free Spins
Free Spin Rounds Available
Transitioning Symbols
Yes Cascading or Transitioning type Symbols Exist
Expected RTP
95% (not verified, have seen listings as high as 96.48)
Year Released
April 2021
Below we have listed some of the most trusted casinos where you can find this slot online.
Additional Slot Games by Quora Gaimg
As slot games developed by Quora Gaming have become more popular we have been increasing our reviews of their games here at EZ-Bet. See below for a few of the games we have recently covered.